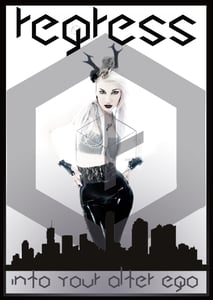 £

8.00
Regress is a night set to unite the people and interests of the fetish and alternative community whilst celebrating performance and latex fashion. Manchester has had great scene in the past with thriving nightlife set to cater for all elements of the community, but since commercialisation really took a stronghold, a lot of venues have become homogenized to cater only for the commercial market. Some time ago I decided that this should change, having spent time within the London scene and witnessed regular events through clubs like Torture Garden, Rub, LFW, AC I wanted to bring such community and performance stages to Manchester. My first task in doing so was to introduce London partners to the potential I saw within Manchester, this has led to me bringing David and Allens world leading fetish club "Torture Garden' twice to Manchester within the past year, both events showed me differing elements within to justify my efforts. However due to Torture Garden heavy calendar it will only ever establish 3 events in Manchester, similar to Edinburgh or Brighton, and in order to even do this we need to establish a firm crowd and community. This is what I envision Regress to be, a monthly event where all communities can unite, similar to that of TG crowds, and celebrate humanity, whether it be within, performance, dance, socialising or sex. Then with this community regularly established we can welcome TG as a Saturday event where other neighbouring communities come in to enjoy an intensified framework that is only Torture Garden.
Regress has its seal of approval from my London based partners who are committed to placing anchor within Manchester, but non of us can do this without the community behind us and that is whom I write this for.
Our motivations are pure, we do not wish to compete but instead compliment the fetish scene within Manchester and provide a more varied framework for new people coming into our community. Of course aging within a community is inevitable but lets not allow it to end with its original members because we cannot recognise transition in scene.
REGRESS the first monthly fetish-fashion-performance combined event within to provide stage for subversive performance and its patrons.
The next REGRESS is on Friday 21st February 2014 at Alter Ego, Manchester.